January 28, 2020
Posted by:

Hevenz

Categories:

Articles, News, Publications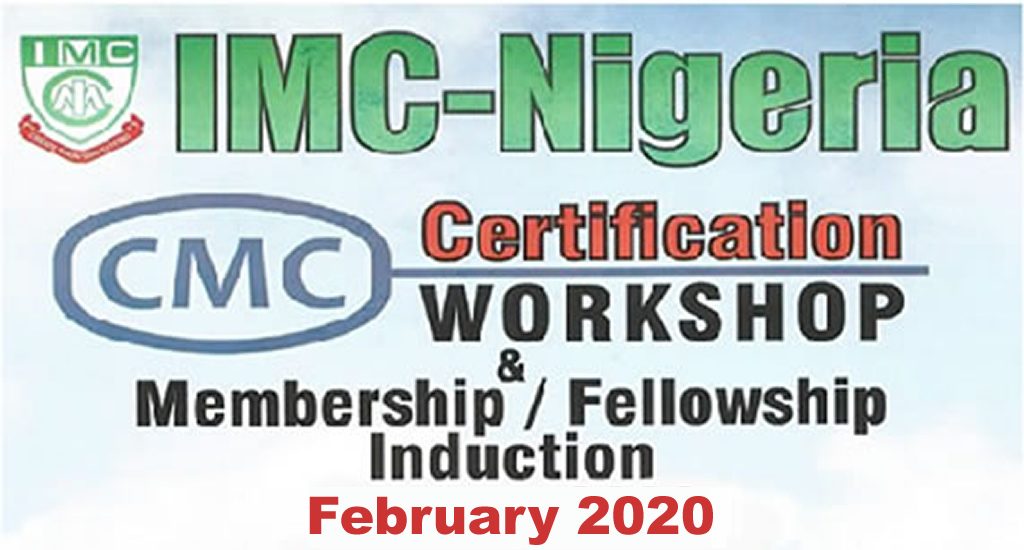 The Institute of Management Consultants Nigeria is pleased to inform participants of the CMC Certification Workshop and Membership/ Fellowship Induction for the month of February 2020.
This is the highest grade of the Institute's Membership and is reserved for accomplished professionals of your level and status in the profession. This is not an invitation to receive an Honorary Fellowship. You are well and appropriately educated in your field of professional calling. You have ample experience that makes you suitable to add Management Consultancy as a platform to offer your knowledge and expertise as a commodity in the knowledge economy. So, the Institute of Management Consultants is extending this humble invitation to you to consider the possibility of becoming a full professional member of the Institute. We believe your knowledge and experience can add value to what we have been doing over the years. We also believe that we can contribute to making your professional knowledge available to society through the platform of Management Consultancy.
CMC Certification Workshop
In addition to your Fellowship, and even more importantly, you will participate in the Certification Workshop which makes you eligible to be assessed for approval. The CMC (Certified Management Consultant) qualification is granted by the International Council of Management Consulting Institutes (ICMCI). The IMC-Nigeria is accredited by the ICMCI to assess practitioners and award the CMC qualification to professionals who meet the requirements set down for the CMC Designation.
The CMC Certification is the highest qualification any management consultant can aspire to attain. It is globally accepted and it is reciprocally recognized in over 50 countries. Visit www.ICMCI.org for more details and the value of the CMC qualification.
CERTIFICATION TRAINING WORKSHOP
The Institute shall be having a Certification Training Workshop at Abuja and Lagos  in the month of February as follows:
Abuja Programme:
Venue: Rockview Hotel (Royale), 196, Adetokunbo Ademola Crescent, Wuse 11, Abuja-FCT
Date: Thursday, February 27, 2020.
Time: 1.00PM Prompt.
PARTICIPATION FEE: N150,000.00
Lagos Programme:
Venue: Lagos Airport Hotel (Banquet Hall), Awolowo Way, Ikeja, Lagos State.
Date: Friday, February 28, 2020.
Time: 1.00PM Prompt.
PARTICIPATION FEE: N150,000.00
KEY TOPICS TO BE COVERED IN THE TRAINING
You are cordially invited to attend either the Abuja or Lagos to qualify to receive your Fellowship and participate in the CMC Certification workshop which is part of the requirements for eligibility to be assessed for CMC Certification in line with the standards set by the International Council of Management Consulting Institutes (ICMCI). The workshop will cover the following Topics among others:
The Code of Ethical Conduct for Management Consultants
The Uniform Body of Knowledge (UBK) for Management Consultants
The Management Consulting Process
Client-Consultant Relations
Marketing of Management Consultancy Services
ISO 20700 quality Management system for Management Consultancy Services
Typical Management Consultancy Contracts and other related matters.
Proposal Writing for Management Consultants
Report Writing for Management Consultants
Management Consultancy Competency Model
The role of IMC-Nigeria and the International Council of Management Consulting Institutes
The training shall take place at Abuja (27th February, 2020.) and Lagos (28th February, 2020)
Please let us know the venue you will be attending to enable us plan well.
It is important to know that this is a professional workshop, not a social event where participants are expected to bring friends/loved ones. As your guests shall not be allowed into a workshop of this nature, it is advisable to avoid bringing them.
PARTICIPATION FEE PAYMENT INSTRUCTIONS
Participants at the Certification workshop may pay by Electronic Transfer, Cash Deposit, or Bank Draft. For control and audit purposes, we have two bank accounts. Participants for the Abuja venue are kindly requested to pay their participation fee into union bank account stated below:
Bank Name: Union Bank
Account Name: Institute Of Management Consultants
Account Number: 0020764888
Those attending the Certification Workshop at Lagos are kindly requested to pay into the Wema bank account also stated below:
Bank Name: Wema
Account Name: IMC-ICMCI Global
Account Number: 0122900284
IMC BOOK PUBLISHING PROJECT
The Institute of Management Consultants has embarked on the publishing of books and manuals in the area of Management Consultancy. If you wish to make a contribution to the Book Project of the institute, this is welcome. In this connection, we wish to inform you that we are currently in the process of publishing books in the field of management consulting to enhance the capacity of members. We estimate that it will cost the institute about #2,000, 000 to do the publication. Your contribution will be highly appreciated. We wish to emphasize that, this is not a condition for participating in the workshop. It is an appeal to members of the Institute and delegates participating in the CMC Certification Workshop.
We want to hear from you
If this invitation and nomination is acceptable to you, please send an acceptance email to info@imcnig.com. If you need any clarification on any matter mentioned in this invitation, you may call the Programme Officer, Ms. Cynthia Aer on 08172686981. We shall be happy to hear from you.
May I seize the opportunity to invite you to donate generously to our Book Publishing Programme. Once again, congratulations on your deserved elevation.
Yours Sincerely,
Professor David Iornem, FIMC, CMC
Director General
08033036047